---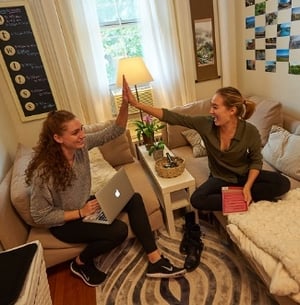 As parents, we are hardwired to want the best life experiences for our children. We know that life will present challenges and it is our role to help them thoughtfully respond to and even learn to embrace these situations. Social Emotional Learning (SEL), also known as Emotional Intelligence (EI), is an invaluable skill that, when developed and nurtured, empowers children and adults to respond to life experiences in a healthy and well-adjusted manner. SEL skills contribute not only to your child's academic success but also to their future work and life happiness.

Social Emotional Learning (SEL) is made up of five competencies including: self awareness, emotional and behavioral management, social awareness, relationship skills, and responsible and ethical decision making.
I talk about SEL in my work almost every day and just last week I was at Barnes and Noble when I happened to notice a plethora of books on the shelves including: Harvard Business Reviews Must Reads: On Emotional Intelligence; Show Up As Your Best Self and Mindful Leaders; Applied Empathy: The New Language of Leadership; Get BIG Things Done and the Power of Connectional Intelligence, and more. In that moment, it occurred to me that these shelves, targeted for many types of organizations and businesses, were hyper-focused on the five competencies of SEL.
So how do we translate this to our everyday life? What do these competencies or skills look like and how do we teach them to our children? Let me provide some real-life examples of SEL skills, how they show up in our adult life, and ways to nurture these skills in our children.
Adults are embracing the value in SEL skills and as parents, we now recognize how important it is to nurture them early in life. Ideally, parents and schools partner in this task and ensure that children develop and refine these SEL competencies and related skills throughout childhood and adolescence. While psychology research has shown that SEL competencies are positively correlated with academic success, it is important to note that these competencies also contribute to helping our children lead more satisfying, healthy, and happy lives.