The idea that dance is an effective means of expression was prevalent in my brief interviews with both Middle and Upper School dancers. Teachers Julia and Jenny strive to demonstrate the communicative power of dance and its ability to enrich the lives of those who practice the art form.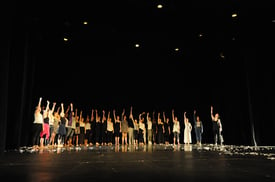 It is no wonder that amidst this environment of acceptance and self-discovery that these students find a very deep sense of comradery with one another.
As supporters, teachers, and mentors of these wonderful students, we hope to help them discover their true potential and ability to positively contribute to their community.