New technologies emerge every day
and today's middle school students are true digital natives. As educators, we need to meet them where they are, not force them to operate in a system of pencils and paper.
The iPad program has been and will continue to be an invaluable resource for giving our students the most effective and relevant education possible.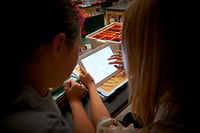 It is essential that in developing the next generation of globally engaged stewards of a better world that we do so with the most effective and versatile tools at our disposal that reflect how the real world operates.