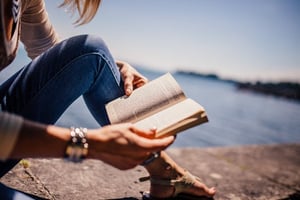 No matter what adventures your summer has in store for you, we hope that the longer days and warm nights provide a little extra time for you to dive into a book or two. We asked our experts here at Westtown to make a few recommendations for those looking for a good read. Here is what they suggested:
We Were the Lucky Ones, by Georgia Hunter, is historical fiction based on the story of the author's grandfather's family. At 15, Hunter learned that she was from a family of Holocaust survivors and she did meticulous research for many years to learn the story of their escape from Poland to all parts of the world. She tells the stories of five siblings, from March, 1939 to April, 1947, and each character reveals the strength and fragility of the human spirit.
For the perfect beach read, After Anna, by Chester County author, Lisa Scottoline, is a suspenseful mystery, with an unexpected twist at the end. Maggie has the chance to be reunited with her only daughter, Anna, a child she thought she might never see again. The sweet reunion quickly turns dark, when Anna comes to live with Maggie, her husband Noah, and their son. Anna is murdered and Noah is accused of the crime, and there are a few red herrings along the way.
Most Dangerous, by Steve Sheinkin, is a young adult narrative non-fiction book about the Daniel Ellsberg and the Pentagon Papers.This award-winning book tells the tense story of how Ellsberg changed from an organization man into a controversial political figure. It is the perfect complement to the movie, The Post, as it fills in the back story.
If you liked Big Little Lies, try The Family Next Door, by Sally Hepworth. Another quick, fun beach read, this is part drama and part thriller. Essie is filled with self-doubt about her place in the world and her role as a mother. When unconventional Isabelle moves in next door, and the two become fast friends, the balance of Essie's carefully structured life turns into turmoil.
Island of the Mad is the most recent book in Laurie King's mystery series about an aging Sherlock Holmes and Mary Russell. Set in the early part of the 20th-century, these mysteries are always fun, often set in far-flung locations and touching on important historical events. In Island of Mad, Mary Russell and Sherlock Holmes travel to Venice to search for a friend's missing aunt. Ms. King brings 1920s Venice to life and even includes a guest appearance by American songwriter, Cole Porter.
Rick Riordan of "Percy Jackson" fame presents a new children's adventure series based on Hindu mythology in Aru Shah and the End of Time by Roshani Chokshi . Filled with vividly imaginative settings (including a magical Costco) and two somewhat unlikely heroines, the series gets off to a fast-paced and amusing start.
Brain Rules by John Medina is an eminently readable book exploring how our brain works and how our environment and lifestyle can impact it. There are chapters on Exercise, Sleep and Stress. I found the chapter on how music affects the brain particularly interesting. There is also a companion website available at http://brainrules.net.
Born a Crime is a fascinating account of growing up in South Africa by comedian and late-night host Trevor Noah. It is funny, illuminating and heartfelt. I would also recommend the audiobook, which is read by Noah himself. His reading brings an extra depth and humor to an already great book.
Whether on the beach, in your favorite chair, or on an airplane, we hope you have a moment to escape and get lost in a good book. Enjoy!