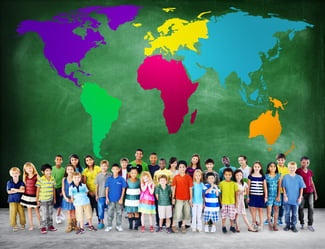 I am the mother of three Puerto-Rican bred, North American girls who are also bilingual. And so my husband and I focus on developing their cultural literacy in age-appropriate ways on a regular basis. We can't assume, though, that they will become global citizens solely by virtue of their cultural and linguistic heritage. Over the years, I've acquired some wisdom on this topic and will share what I've learned in a three-part series of articles that will help you teach your children to be global citizens at different developmental ages.
Global citizenship is defined by a moral and ethical disposition that guides a person's understanding of self-identity in a local and global context. It reminds them of the responsibility they have to self and others within various and different communities.
According to Audrey Osler, director of the Centre for Citizenship and Human Rights Education, and professor at The University of Leeds in England, Global Citizenship education is an imperative of our days. She affirms that "Education for living together in an interdependent world is not an optional extra, but an essential foundation."
Capitalizing on our children's natural interest about the world is key during the early years. Their curiosity coupled with your intentional exposure to their community and beyond will set them on the right path to developing their empathy, appreciation for world cultures, a sense of responsibility toward the world, and environmental stewardship. Here are five things you can do to nurture and expand your little explorer's global compass.