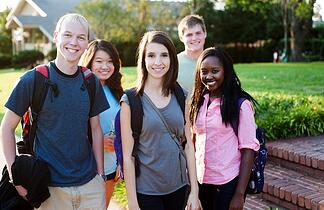 Often it appears that successful parenting is measured by your child's achievements. This may be at no time more evident than during high school, when grades begin to count, standardized test scores are no longer measurement tools for the school alone, and athletic prowess is more important than fun, games and exercise.
If your teenager is successful in these endeavors, it can be wonderfully satisfying to sit back and bask in the glow of their grades, trophies and college acceptances.
But what if your teen struggles academically, dislikes sports, and none of this is offset by musical, artistic or theatrical talent? What if your teenager is average? Or, even scarier, below average?
I first want to assure you and your teenager that high school, and schooling in general is temporary. Being school-age is a phase like any other, from toddlerhood to retirement, and many young people do not find their passion or hit their stride until later. Moreover, although academics and school-centered pursuits have value, they are not the only factor, nor even the primary factor, in raising fulfilled adults. The following intangible qualities ultimately count for more:
Kindness is universally and perpetually respected. It encompasses compassion, generosity, empathy, and patience. Our competitive achievement culture doesn't always teach "nice," but as parents we can model it, praise it in our teenagers, and acknowledge it in others. Tip generously, offer your seat to someone who needs it more than you, check on your elderly neighbor, and encourage your teenager to do the same.
Manners will never go out of style. Emphasize the importance of please and thank you, the firm handshake, and the hand-written thank you note. Those phrases and actions, coupled with good basic table manners, will help your teenager navigate the adult world more than an A in calculus.
Emotional Quotient, or EQ actually is a measurement tool, but instead of academic intelligence, it measures emotional intelligence. If your teenager reads people well, has excellent social skills, and is someone people naturally open up to, then they probably have a high EQ. This will serve them well as they live and work with others. Help enhance this quality by being a good listener yourself and make sure you praise your teen for having good instincts and people skills.
Honesty is the primary building block of healthy relationships. If your teen is able to be honest with themselves and others about what they think, how they feel, and the actions they are taking, then rejoice. Honesty, and its twin sibling integrity, may not translate well onto a Facebook wall, but they are both qualities worth bragging about.
Humility isn't just about being modest in the face of success. It also implies a willingness to learn about oneself and others, owning up to missteps, mistakes, and weaknesses, and basically not being a know-it-all. Humility is not the enemy of confidence; it is its partner, and teenagers who possess it are less likely to come across as arrogant, self-centered, or entitled.
Remind yourself often that you are raising your teenager to be a solid human being, not a "human doing." Success in the traditional ways is terrific, but no adult needs to look back on their glory days when it comes to kindness, manners, EQ, honesty and humility because those qualities not only last a lifetime, but they have far more lasting impact than athletic awards, high GPAs, and outstanding SAT scores. Try your best to keep your focus on the importance of character and social-emotional health when you find yourself measuring your teenager by their achievements, or even more alarming, by their lack of achievements.