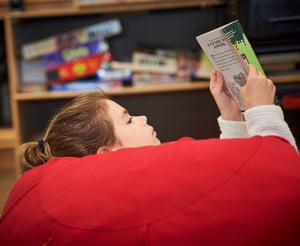 Winter is here and this year, more than ever, we are hunkering down at home. When it's cold outside, what better accompaniment is there to your favorite blanket, chair, and hot beverage than a good book? Whether you like to read alone or gathered with your family, we have some great suggestions from our in-house experts —our librarians—at Westtown School!


Lower School Suggestions from Lower School Library and Media Specialist - Heather Tannenbaum
Heather's top new pick! Author Matt de la Peña and illustrator Christian Robinson (the team behind the Newbery Medal and Caldecott Honor-winning Last Stop On Market Street) are back with Milo Imagines the World, a beautiful new picture book that celebrates the power of imagination. Every Sunday, Milo and his sister take a long train ride to visit their mother. To entertain himself on the ride, Milo watches the people around him and draws what he imagines their lives are like. Eventually he comes to realize, you can't really know anyone just by what they look like. (All ages.)


Looking for something like your childhood favorite, Charlotte's Web? Try Saving Winslow by award-winning author Sharon Creech. Louie is not great at keeping pets alive for long. So when his dad brings home a sickly mini donkey named Winslow, will Louie be able to save him? His strange new neighbor Nora is doubtful, but Louie is determined, especially because caring for Winslow makes him feel connected to his brother who is far away in the army. Will Louie be able to prove to everyone —and himself — that he and Winslow are both stronger than people expect? (Grades K and up.)


Are you ready for a race against time to find a book that could unlock the secret to saving your literary hero's life?! In Book Scavenger, by Jennifer Chambliss Bertman, 12-year-old Emily has just moved to San Francisco, the home of her favorite book publisher and game creator, Garrison Griswold. His most famous creation is an online/real-world book scavenger hunt where books are hidden in cities around the country and clues to their location are found through solving puzzles. But when Emily arrives in the Bay Area, she's shocked to learn that Griswold has been attacked and is now in a coma. She and her new friend James discover a strange book that might be the very key to finding who attacked Griswold and saving his sensational new game that hasn't even been released yet! (Grades 3 and up.)


After their father dies in a car accident, young Emily and Navin move with their mom into a big creepy house that once belonged to their great grandfather. One night, evil creatures kidnap their mom and take her through a secret door in the basement to an underground world full of monsters, giant robot houses, talking animals, and a mechanical rabbit. Will Emily and Navin be able to save their mom and get back to their own world? Or is this the beginning of a long, mysterious adventure that will pull them apart before they even find her? The Amulet series consists of eight books (the ninth, and presumably final, installment is yet to be published), starting with The Stonekeeper. I recommend reading this series in order, and get a few or more at a time because they tend to end with cliffhangers! (Grades mature 3 and up.)
Middle School Suggestions from Middle/Upper School Librarian - Betsy Swan
A Cat's Story is Ursula Murray Husted's recent graphic novel about the adventures of Cilla and Betto, two stray cats on the island of Malta. Tired of the hardships of life as a stray cat, Cilla decides to find the mythic garden where fat birds and mice abound and a cat's life is easy. The other cats try to dissuade Cilla, but Betto agrees to join in the quest which takes them to far-flung places. Husted's artwork includes remixes of well-known masterpieces (now including Cilla and Betto) interspersed among the panels of the story.


Zora and Me: The Cursed Ground is the second book by T. R. Simon to feature Zora Neale Hurston as the main character. Like Zora and Me (co-written with Victoria Bond), this book imagines Hurston as a child in her hometown of Eatonville. In The Cursed Ground, Zora and her best friend, Carrie, discover a town secret when they encounter Old Lady Bronson, the town witch. The story is told from alternating perspectives — Carrie's in the present day (1903) and Lucia's in the past (1855) — and unfolds to reveal both the impact of racially motivated violence on Lucia's life as a young enslaved girl and the contemporary, ongoing impact of slavery.


Nightbooks is a new fantasy novel by J. A. White, author of the popular Thickety series. A dark retelling of two well known folktales, Nightbooks is the story of Alex, a boy who loves creepy, scary stories and has passed hours writing his own. Hoping to shrug off his image as a "weirdo," Alex determines to burn the journals in which he has written these stories, but on the way to the furnace, he is ensnared by the witch Natacha. Now, to stall for time, Alex reads his own horror stories to Natacha. Drawing on folk and fairy tales, White has created a story in which Alex and his imprisoned companion, Yasmin, discover the power of stories.


Charming as a Verb is the latest book by Morris Award winning author Ben Philippe. A mixture of humor, romance, and real-life conundrums, this is the story of the relationship between an enterprising high school student, Henri Haltiwanger, and his stubborn, sometimes awkward neighbor, Corinne Troy. Both are high school students at an exclusive Upper West Side private school, but Henri is first generation American, and he needs to work to help his immigrant parents. When Corinne discovers Halti has misrepresented his dog-walking business, she has the tool she needs to coerce him into helping her improve her image.


Spooked!: How a Radio Broadcast and The War of the Worlds Sparked the 1938 Invasion of America is a terrific, new work of non-fiction by Gail Jarrow. This large-format book filled with photographs, drawings, and diagrams, explores the centrality of radio as entertainment, the work of Orson Welles and the Mercury Theatre, and the impact of the 1938 mischief night radio presentation of H.G. Wells' story "The War of the Worlds." Jarrow not only creates the context in which to understand why so many people would believe the hoax, but she draws relevant parallels to the contemporary question of fake news.
Upper School Suggestions from Director of Library Services - Victoria Jones
Concrete Rose by Angie Thomas

This wonderful new book by Angie Thomas is a prequel to Thomas's best-selling book,

The Hate U Give

. It focuses on Starr's father, Maverick Carter,as he tries to navigate his life in Garden Heights. Maverick is 17 and is a new father who must make decisions about staying loyal to his friends and what is best for his growing family. Written in Thomas's engaging and powerful style,

Concrete Rose

would be a good choice for anyone who loved

The Hate U Give

or enjoys realistic fiction.


A Phoenix First Must Burn: Sixteen Stories of Black Girl Magic, Resistance, and Hope

edited by Patrice Caldwel

l

A Phoenix First Must Burn

is a new collection of science fiction and fantasy short stories focused on the experience of Black women. These stories explore a wide-range of themes including racism and gender, and are written in a variety of styles and tone. This would be a great book for anyone who loves short stories or science fiction and fantasy.


The Truly Devious series by Maureen Johnson

If you enjoy a good mystery series with numerous plot twists and snappy dialog, then the

Truly Devious

series is for you! Set at Ellingham Acadamy, a private boarding school in New England, this action-filled series follows Stevie Bell as she tries to solve a decades old murder and kidnapping case. As the investigation continues, new crimes start to pile up and Stevie must solve the crime before it is too late.
Adult Suggestions from Director of Library Services - Victoria Jones
Four Hundred Souls: A Community History of African America, 1619-2019 edited by Ibram X. Kendi and Keisha N. Blain

Currently a

New York Times

bestseller, this new anthology edited by Ibram X. Kendi and Keisha N. Blain offers a superb collection of writings reflecting on the Black experience in the United States. Starting with 1619, individual authors explore African-American history in five-year increments, focusing both on familiar and little-known events to capture the resilience of the African-American community. Writers include Isabel Wilkerson, Howard Bryant, and Jericho Brown. This is a wonderful book for anyone interested in history that can be read as a complete text or as brief essays.


Black Sun by Rebecca Roanhorse

The opening book in a planned trilogy,

Black Sun

by Rebecca Roanhorse is a fantasy novel inspired by Pre-Columbian indigenous culture. With intricate worldbuilding and complex characters, this is a great read for anyone who enjoys immersive fantasies and is looking for a new series. One warning, however: the sequel hasn't been released yet so you may find yourself impatiently waiting for the next book in the series!


Moonflower Murders by Anthony Horowitz

Looking for a great mystery that will keep you guessing? Try the

Moonflower Murders

by bestselling author Anthony Horowitz.

Moonflower Murders

follows retired publisher Susan Ryeland as she tries to solve a missing persons case linked to a book by one of the authors she previously published. This is two books in one as you read both the current mystery and

Atticus Pünd Takes the Case

by fictional writer, Alan Conway. While this is a sequel to

Magpie Murders

published in 2017, it can easily be read on its own and is a great choice for anyone who likes complicated or metafictional mysteries.
Snuggle up and enjoy some of these suggestions, and don't forget that you can support book store owners by shopping small and local. Happy Reading!