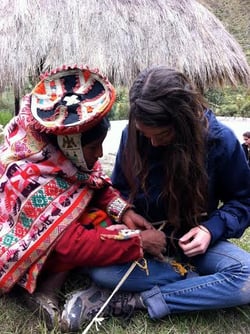 This is the final article in a three-part series about raising global citizens, started last spring for this blog.
Now that you have fostered curiosity and exploration during the early childhood years and focused on supporting your tween in figuring out self-identity in relation to others, you're ready to help your teenager become a world citizen. By the time they reach adolescence, young people have a pretty solid understanding of the things that set them apart as individuals and how they fit into the larger community beyond your family unit. They also have clear ideas of their passions and inclinations, while continuing to discover the wonders and challenges of the world around them.These are the years in which travel outside the family unit becomes most attractive - and sometimes indispensable - to the formation of personal ideologies regarding self-identity in relation to global citizenship.
So, how can you support your child's desire to discover and engage with new communities and cultures beyond their own? How can you ensure these experiences go beyond mere tourist interactions and offer deep and transformative opportunities for your teenager? Here are a few suggestions:
Help them identify global engagement opportunities locally -

Samaritan's Purse is one of my favorite agencies.Their yearly Operation Christmas Child collection has become a favorite of Westtown students who love to bring the joy of Christmas to children worldwide. It's one of those

local

opportunities with positive global reach. Other local organizations like

Habitat for Humanity

offer outstanding opportunities for local impact and global consciousness. Encourage your teenager to join!
Inquire about adult-led or sponsored trips in your local community -

You don't need a passport to go global. Check out volunteering opportunities to make a difference here in the

US

! Whether you are affiliated to a religious organization or not,

Urban Mission

offers plenty of opportunities to make a difference in Philadelphia. They work to improve HIV/AIDS awareness, homelessness and food insecurity in the city. For those of you outside the Philadelphia region,

volunteermatch.org

allows you to

search by zip code for volunteer opportunities

throughout the U.S.


Support their affiliation to service organizations in your area that are globally focused -

CISV

and

Rotary Internationa

l have chapters throughout the nation. They hold monthly meetings and provide an excellent opportunity for local engagement for global reach! They also offer travel opportunities for young adults, and in some cases

scholarship opportunities

.


Help them think beyond the high school years -

Global engagement begins at an early age, but when it is indeed a passion, it serves as a guidepost for future personal, academic, and professional endeavors. Encourage

international internships

, they will give your teenager a tangible chance to develop cross-cultural competencies in a professional setting that will give them a leg up during the college years and into future job searches.

Volunteering abroad

is also a phenomenal way to help students think about current passions and their reach into future choices. This type of experience will be sure to impact your teenager's academic and professional paths.
Raising global citizens is a lifelong endeavor. It is a goal we can set out to achieve from an early age. Each developmental stage offers us opportunities to expand our kids' world view and refine their cross-cultural competencies. Take every occasion to usher your children from being an explorer to becoming a participant and a changemaker in the global village!
Other Articles in Series: